Acting for All and Encore courses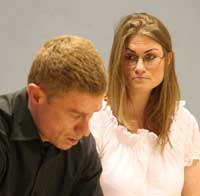 Acting for All
Acting for All is an ongoing course designed to help anyone and everyone develop drama skills in a relaxed and friendly environment. There are opportunities for performances and the added bonus of a lively social side!
You don't need any previous experience of acting or performance, but acting can be physically and emotionally demanding so you'll need to be prepared to stretch yourself a bit - in every way! But we build up to this gradually.
The course is run by a highly experienced drama and theatre practitioner. A number of specialist guest tutors will also conduct workshops throughout the course on a variety of topics.
There is a focus on the "tools of the actor": the voice, the mind and the body. Weekly sessions consist of enjoyable drama games, improvisations and exercises to get your imagination and creativity going. We start by working together in groups. Then, as confidence grows, we begin to work individually as well. During the third term we will work towards scenes from chosen texts and there are opportunities in July to take part in showcase performances.
Encore
Encore is a one year intermediate course designed to allow members to develop drama and theatre skills in a fun but focused environment. The course is primarily for those who have attended Acting for All classes and want to take their learning to the next step, but it is possible for applicants with appropriate levels of drama experience to participate in the Encore year.
The first two terms will seek to develop essential acting skills and introduce members to a number of specific theatrical techniques and theories. There are practical and engaging workshops on Stanislavski, Brecht, TV and film acting, radio acting, Shakespeare, as well as a host of others! The third term will concentrate on uniting these skills to work towards a showcase performance, which members can use as an audition for The Questors' Acting Membership if they wish to.
Classes and Applications
Classes for Acting for All runs on Friday evenings between 8.00–10.00pm. Encore will run on either Friday or Saturday evening (to be decided in September) between 8.00–10.00pm.
Please note that anyone whose first language is not English will need to be sufficiently fluent in English to speak and understand during classes.
There is no audition for Acting for All. Encore is open to anyone who has completed Acting for All or can demonstrate suitable experience.
All courses are available to those aged 18 and over. You can submit your application by post. (See link below to download an Application Form.)
All classes will run subject to minimum numbers, so you are advised to return an application form as early as possible.
Click here for Dates & Fees
Click here to download a postal Application Form