Young Studio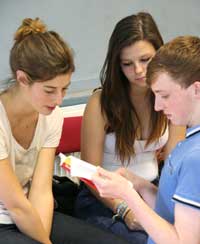 Young Studio is a one-year course intended for young people aged 17-20 with a passion for learning acting but not yet able (or just below the minimum age) to take on the commitment of the Foundation Course in Acting.
It is perfect for students who want to move on from youth theatre or are looking beyond A-level classes to take their acting skills to a higher level. It may also be suitable for younger applicants to the Foundation Course in Acting who have narrowly missed being accepted.
The Course
This one-year course is carefully structured to develop the key skills of acting, with the emphasis on practical work. The classes consist almost entirely of improvisations and acting exercises, which give you essential experience in stage acting and creating characters.
You will need to have a mature attitude to training, and keep notes and prepare work (such as short scenes or exercises) for classes.
Progression
Many members of the Young Studio course go on to audition for the Foundation Course in Acting, and they are quite likely to be successful.
Classes
Classes are held at The Questors Theatre in one of our large rehearsal rooms on Saturday afternoons 3.15-6.30pm.
Membership of The Questors
As a Questors student you enjoy all the facilities and benefits of membership of The Questors, including free tickets to all productions by The Questors during the year (except the Christmas show).
Applications
Admission is by simple audition. Minimum age 17 years on entry.
The course is intended primarily for 17-18 year-old students, but 19- and 20-year-olds are also accepted. (If you are under 17 on 1 September 2017 then you should apply for QAYT, our youth theatre.) It is not likely that anyone over 21 will be accepted.
Unless there are a very large number of applications, anyone who passes the audition will be accepted, and the size of the group is generally between 10 and 20.
Use the links below for details of dates and fees, auditions and applications.
Click here for Dates & Fees
Click here for details for Auditions
Click here to apply online or download a postal Application Form